Naish Hover Crossover 120L 7'6"x 30" / $2065 £1849
Naish Thrust Foil XL / $1290 £1199
In this SUPboarder review we look at another multi sport foil board. The Naish Hover Crossover is a board that can do it all… SUP surf, SUP foil and Windsurf foil all in one. And it can do it all well. But just because it's sold as a foil board doesn't mean it doesn't work well without the foil too. This board is a very similar shape to the older Naish Raptor, and in small to mid size clean waves that board was a lot of fun, and this Hover is the same. But also because of it's shorter 7'6" length it's a great board to get into foiling with as not too much weight up front. The board comes as standard with footstraps, so in just 5 mins the Hover can be changed from a surf foil to a wind foil.
To go with the board Naish have designed their Thrust foil which is a development of their previous years foils. The one we've been using is an XL size and would be great for most paddlers getting into the foil sport.
Board details:
Length        7′6"
Width         30″
Thickness   4 5/8″ approx
Volume      120l
Fin set up  4 FCS fins 2×4.75′ 2×4′
Weight       9.5 kg / Compete 14.5kg
Rider size   max 90kg
Foil details:
Wing area    1572 cm2
Mast             55cm
Construction Carbon/aluminium
Rider size    max 100kg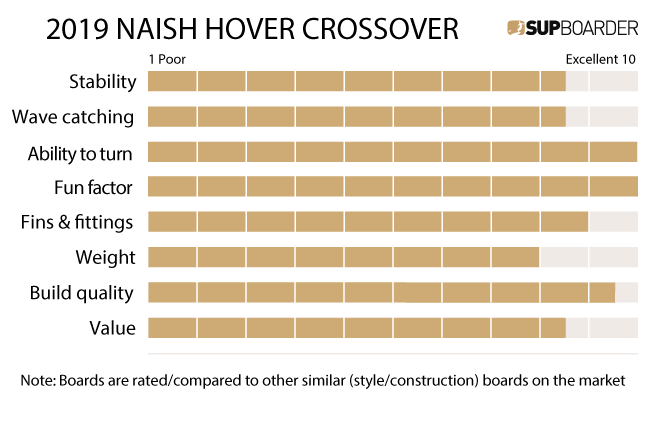 Watch on SUPboarder Pro
If you want more information about this board check out the SUPboarder Pro video of this board where we compare this board to other equivalent boards on the market. Also with SUPboarder Pro you can ask us direct questions about the product and any other products, to guarantee you get the right advice to help you make the correct board choice. Find out more about SUPboarder Pro here : www.supboardermag.com/pro 
Find more SUPboarder Pro content here : SUPboarder Pro content page
Our photo gallery

Get more out of your investment with this 3-in-1, multi-sport crossover. Two, ten-inch US boxes create a bottom track system that makes it simple and convenient to switch between sports. To SUP-foil, simply set to the forward position. For windsurf-foiling, set to the backmost position and affix a sail to the mast track deck box and attach footstraps to a multitude of insert positions. Ready for an old-fashioned SUP-surfing session? Take advantage of the quad fin setup and compact shape of this mini simmons-inspired design and log some time on the waves. Hint: this shape is especially fun on small, mushy waves.
Short, wide and unbelievably stable, the Hover 120 is as accessible as it is versatile. Featuring a huge sweet spot for a board of its length, this board is a great choice for beginner foilers, while those more experienced can position the foil further back for greater maneuverability. Easily fitting riders of all sizes, the Hover 120 Surf/Windsurf foilboard is the ultimate choice for any waterman that loves to do it all. These boards come with standard FCS fins and are equipped with the FCS II Eco Fin System for riders who prefer to use tool-less fins from FCS.