Aqua Marina Rapid 9'6″ x 33" / €599
There aren't many boards out there that can do what the Aqua Marina Rapid can do, and at the price it can do it too. The Aqua Marina Rapid is 100% setup for white water / river paddling, but it can also get you out in the waves too. Many of you have been asking about the Rapid review and we can say that if it's a good priced, action packed iSUP board you're after, you're really going to have to try hard to beat the Aqua Marina Rapid.
White water tester : Ben Payne
Whitewater photos : Polly Weaver
Board details:
Length        9′6"
Width         33″
Thickness   6″
Volume      289l
Fin set up  5 PVC fins
Weight       9.5 kg
Paddlers    50-95kg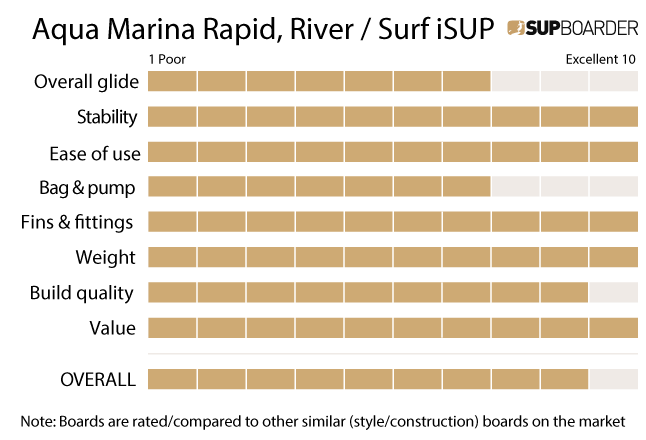 Our photo gallery
Read on for brand video, details and website www.aquamarina.com

Short and nimble, the Rapid 9'6" is an advanced river SUP delivers easy surfing action with surprisingly radical performance attributes. Featuring stability, ease of use with desired speed and control, the Rapid guarantees unbeatable fun in all types of waves.