Aqua Marina Magma 10′10" x 30" / $489
In this SUPboarder review we look at another cheaper price point SUP from Aqua Marina. The Aqua Marina Magma 10'10" is 30′ wide so will suit light to mid-weight paddlers wanting more of a board for themselves, rather than a family and friends board like the Aqua Marina Beast at 32" wide. This board will take you places and get you into some small waves too.

Board details:
Length        10"10′
Width         30″
Thickness   6″
Volume      290l
Fin set up   Easy slide-in and removable center fin
Weight       9.1 kg
Rider size   50-85kg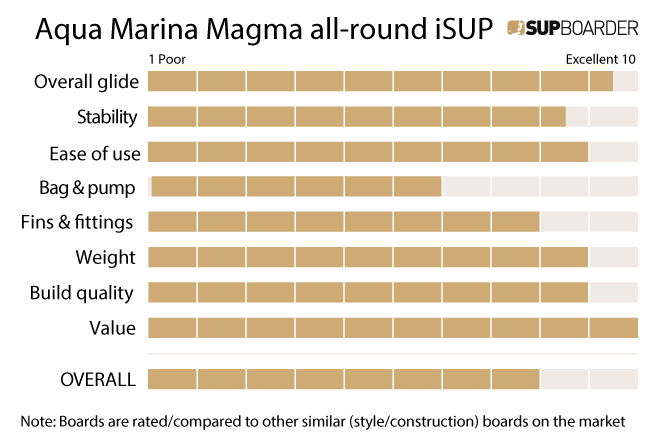 Read on for brand video, details and website www.aquamarina.com
Character and Style
Drifting down the river, can become effortless effort, where nature does most of the work, while the rider simply guides the board, taking the occasional steering stroke to keep the board headed in the right direction. Similar to Fusion, the Magma is simply a cruising and surfing version, which still offers high level of functionality. Highlights – the 4cm kicker-pad for step back confidence and control.  Like the Fusion, it features stunning graphics, and inspired from the Octopus, the beautiful hand-made print is designed to enhance and elevate the riders experience and love of the board.
● Utilizing premium Drop Stitch core material technology, ensures super lightweight, durability and stiffness.
● Double rail construction with 1000 Denier extra rail band reinforcement
● SuperTough Dual Stringer (STDS) technology. 1000 Denier center stringer for additional stiffness and rigidity.
● Full deck and base quality graphic printing and rail design for superior optics.
● Highly efficient shape for cursing and exploring
● New! Action camera Mount Kit include mount base and extend boom
● Center board carry handle
● Fins: Easy slide-in and removable center fin
● Stainless steel leash-ring on the deck at the tail
● Integrated cargo D-ring with elastic straps
● Tail kick pad for critical bottom turns and cutbacks
● Optimum air pressure in all conditions, up to 15psi