So, when it comes to racing a hard board is always going to be fastest… right?! Well yes (at the moment!) but with the new Starboard All Star and its patent pending Airline design coming on all their inflatable race boards, it looks like Starboard are closing the gap between carbon and air. In this video we look at the 18′ Starboard Airline and the 14′ Starboard Airline All Star, and compare them to the 14′ All Star Carbon Sandwich board.
2018 Starboard Airline All Star 14′ x 28" / £1299
Board details:
Length        14′
Width         28″
Thickness   6″
Volume      345l
Fin set up  Single US box
Weight       12 kg
Rider size   60-115kg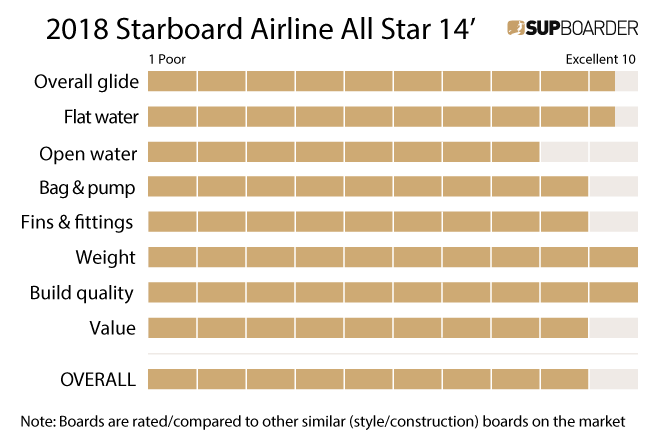 2018 Starboard Airline All Star 18′ x 27" / £1399
Board details:
Length        18′
Width         27″
Thickness   6″
Volume      384l
Fin set up  Single US box
Weight       13 kg
Rider size   60-140kg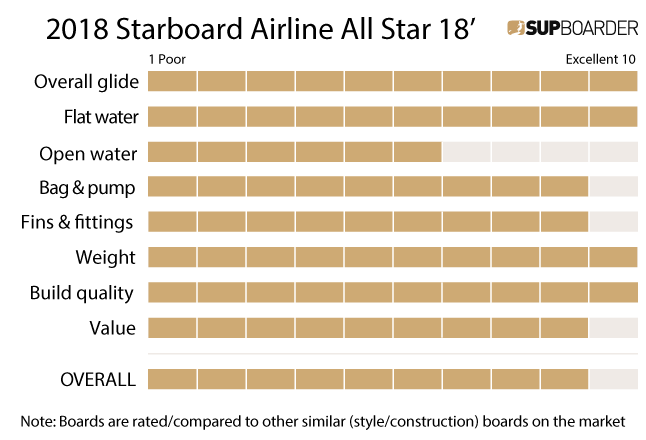 Other sizes in board range;
14′ x 28″ = 345L Downwind
14′ x 26″ = 320L
14′ x 24″ = 301L
12'6"x 27″ = 299L
View the sprint data on GeoSUP here : www.geosup.com
Read on for brand video, details and website www.starboardsup.com
18'0″ x 27″ All Star Unlimited Flatwater. Jump on board and be amazed. The 18'0″ x 27″ flat water board simply is the quickest way to get from A to B and it all packs up into a small bag. With the Airline tech, the long inflatable hull maintains rigidity and the fin is positioned far forward to help turning.
14'0″ x 28″ All Star Downwind. The perfect solution for those wanting a downwind race board that's fast and easy to travel with. 28″ width offers extra stability and control in choppy ocean conditions, while the curved rocker with raised nose kick prevents the nose from diving when connecting bumps.
14'0″ x 28″ All Star. Widest outline provides added stability so the rider can reserve energy from balancing and instead use it to maximize paddle power. The wider outline gives extra control in choppy conditions, while the flat rocker maximizes glide for the fastest speed on flats.
14'0″ x 26″ All Star A popular size for many riders that gives enough stability to be in control when conditions get choppy, yet fast and slippery to cover distances quickly. With the extra stiffness and rigidity from the Airline system coupled with the lightweight technology, this board will make you question a hard board.
14'0″ x 24″ All Star Extra fast from the narrow outline. Insanely lightweight and now incredibly stiff from the Airline technology, the 24″ is the real companion for any serious racer. Narrow width is designed for lighter and higher skilled riders that want the fastest speed from the reduced wet area.
12'6″ x 27″ All Star New 27″ width has a slightly wider nose for extra pop in choppy water and wider tail for greater control and stability when buoy turning. Twin stringers on the deck combined with the Airline Technology creates the fastest and smoothest glide ever.