Fanatic Stubby Foil 8'7"Foil edition / £1649 Board / £899 S1 Foil
One board that does it all?… It's a hard thing to ask for from a board, but having a board you can SUP surf, SUP Foil and windsurf Foil definitely sounds like a value for money product.
When it comes to foiling, by using a good foil such as the Fanatic S1 you can surf on pretty much anything (as many youtube videos show us!) But the Stubby isn't just anything! The Fanatic Stubby is an outstanding shaped board that surfs so well you will be happy to leave the foil on the beach until the waves crap out. The fact you can windsurf it as well just brings even more fun to a day at the beach!
Board details:
Length        8′7"
Width         29.25″
Thickness   4″ approx
Volume      120l
Fin set up  3 x Multi box (5" fins) / Double US box foil attachment
Weight       9.1 kg
Rider size   50-95kg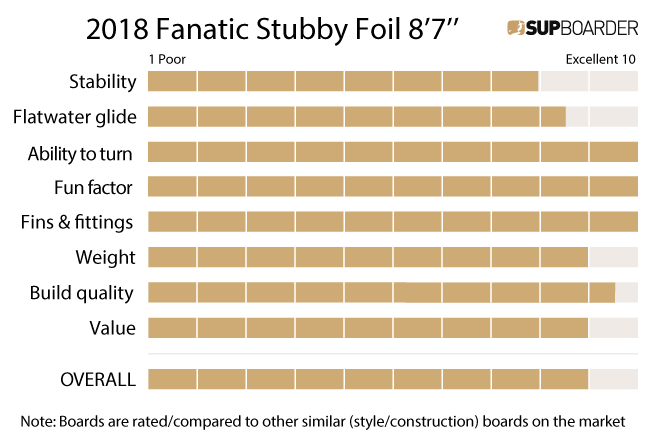 Other sizes in board range;
7′10"  x 28.5" = 95L
Watch on SUPboarder Pro
If you want more information about this board check out the SUPboarder Pro video of this board where we compare this board to other equivalent boards on the market. Also with SUPboarder Pro you can ask us direct questions about the product and any other products, to guarantee you get the right advice to help you make the correct board choice. Find out more about SUPboarder Pro here : www.supboardermag.com/pro 
Find more SUPboarder Pro content here : SUPboarder Pro content page
Read on for brand video, details and website www.fanatic.com
The new Stubby Foil Edition adds another dimension to our parallel rail shape. Fly above any ripple or dig your rails deep in a clean wall – you decide on the setup you ride.
Our Stubby Foil Edition comes in the same shape as our Stubby LTD and offers the same easy and controlled flow if you decide to ride your regular Thruster fins.
Once you change to Foil, our Stubby Foil Edition – available in 7'10" and 8'7" – creates a whole new dynamic. Catch waves of any size way before they hit the reef and ride them with new lines and a totally different approach. Our adjustable system with two longer tracks allows the use of different foils and finding their individual sweet spot. Additionally we equipped the Stubby Foil with strap inserts for optional Windsurf-Foiling. The greatest variety of multisport-use combined in one package.