2019 Starboard PRO 7'10"x29" Blue Carbon / £2299
If you're looking for a performance shaped surf SUP this year, this is the board everyone is talking about. Similar and yet also very different to the previous years PRO's. We've been testing the 2019 Starboard PRO 7'10" over the past month in a huge range of conditions and have enjoyed every session. It's clear to see that Starboard have done a lot of development with this new shape, and good intermediate to advanced surfers will love the new changes and feel of this 2019 board.
Board details:
Length        7′10"
Width         29″
Volume      104l
Fin set up  US box and 4.75" FCS side-fins 4.5" (quad or thruster)
Weight       6.3 kg
Rider size   65-85kg (70-80kg ideally)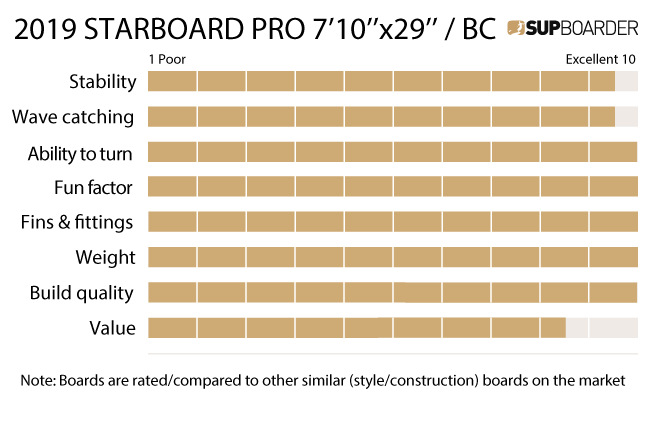 Other sizes in board range;
7'0″ x 24" 66L
7'3″ x 26" 83L
7′5″ x 26.75" 92L
7′10″ x 28" 102L
7′10″ x 29" 104L
8'3″ x 29″ 110L
8″10″x29″ 131L
8'10″x29″ 143L
Our photo gallery
Read on for brand video, details and website sup.star-board.com
The new shorter outline makes it possible to ride a smaller board with more reactivity. Thinner rails give more control & response to generate more speed. Channeled tail gives bite and drives out of turns. All sizes feature diamond grooved traction pads with tail kick pad with raised centre ridge.