Contribute
SUPboarder needs you! You are the SUPboarders…
We are always looking for fresh content –  weekend adventures, holiday reports, event reviews or even if you just got inspired by something SUP related and think SUPboarders would like to hear about it.
If you would like to contribute to SUPboarder, drop us an email through our contact form with your ideas and we will get back to you asap. No idea is a stupid idea. If you think it's interesting then the chances are another SUPboarder will too!
To maintain the quality of the magazine, we want to publish unique content.  If you can send us the event write ups/features before you post to social media then we will be more likely to publish them.  SUPboarder is the leading UK SUP magazine/community, and reaches a huge audience all over the world, and therefore can expose your content very effectively.
Remember, SUPboarder is run by paddleboarders for paddleboarders…. and this is how you can contribute:
Events
If you run a SUP event, please send us your write ups and media.
Send over your text & pictures to us via email or the contact form
Text can be in any format and the length of the report does not matter. However, it is easier for us if you provide results in a list rather than a table.
Event pictures help show the SUP community what your event was like – so its worth including as many as possible and we will make up a photo gallery of your SUP event.  Follow the Image guidelines below.
Image Guidelines
Pictures paint a thousand words – if you snap some pictures of SUP and want to share them, send them over and we will show the world of SUP what you've been doing.  If you have lots, don't worry, we will make up a gallery of all the shots!
Image Specifications
We don't need to receive pictures at a high resolution – just clear, sharp images will be perfect.  Any file type is fine but they should be a minimum of 600 pixels wide.  Low resolution screen captures, using Mac Screen Capture (SHIFT, COMMAND & 4) or using the Windows 'Snip it' tool are absolutely fine too, so there is no need to struggle sending huge files via email.
Events Calendar
If you are planning a SUP event and want SUPboarder to promote it, send over as many details as you have via the contact page and we will post it in our SUP events calender .
Please send us images of the event branding rather than your own branding.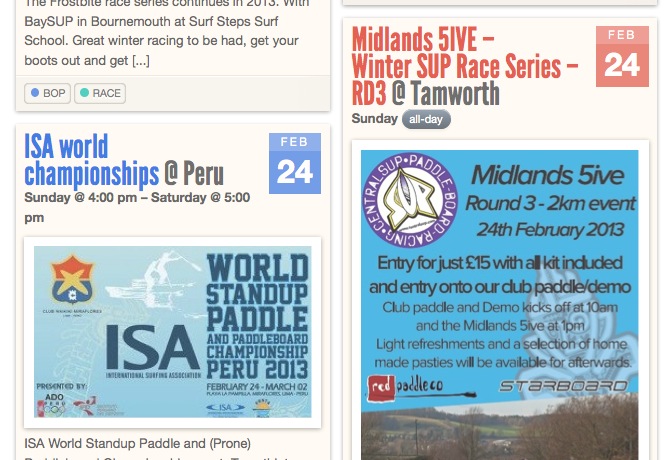 SUP Club/School UK Directory
If you are a UK SUP club or school and want to appear on the SUPboarder Club & School directory, send us the following via the contact form or email.
Club/School Name
Maximum of 30 words about your club/school
Club location (Full address and postcode, for map tag)
Contact email
Contact number
Website URL
Facebook page (if you have one)
The SUP map is completely free, all we ask is that www.SUPboardermag.com is linked to us from your club website (see below for details on how to set up the link).
SUPboarder Links and Logos
Download the SUPboarder Logos here to embed in your site – link the images to:  https://www.supboardermag.com and set the Alt Tag to: UK Stand up paddle boarding Magazine | SUPboarder
If you want a particular size SUPboarder logo, just get in contact and we will sort it for you.
If you want to link to us from your site with text, put our URL in the following text (anchor text):  UK Stand up paddle boarding Magazine | SUPboarder. It helps as many people all over the world see what SUP is all about.