Starboard Longboard 10'x29" Blue Carbon  £2225 / Pine Tek £1599
After wondering when Starboard were going to bring a performance longboard surf shape to the market, we now have the board that we were waiting for. The Starboard Longboard is a very good all round surf shape. Ideal for lighter SUP surfers getting into small waves, as well as having enough performance for the more experienced mid-weight surfers to enjoy too. If you're looking at getting into the smooth longboard surfing style then the Starboard Longboard really will put a smile on your face, in knee to head high waves!

Board details:
Length        10′
Width         29″
Thickness   3.3″
Volume      123l
Fin set up  2+1 Fin setup (6.7" US Centre fin -2 x FCS 4.5" side fins)
Weight       8.2 kg
Rider size   50-90kg
Other sizes
9'x 28" 3.3" 101L

Our photo gallery
Read on for brand video, details and website www.starboardsup.com
Inspired by our legendary Starboard Surf Longboard model, designed to perform in waves from 1ft small beach breaks to head high reef breaks. The boards offer fast down-the-line surfing, as well as the ability to perform in the critical section of the wave. These cutting-edge shapes are totally well received by our team riders and anyone who have tested them. Congrats to designer Ollie O'Reilly for setting his mark on the sport.
More about Starboard new Blue Carbon and Gold Level Status ECOBOARDS
The Brushed Carbon Sandwich technology we pioneered in SUP 10 years ago has been gradually improved year by year. Winning 7 out of 8 Gold medals in the ISA SUP Surf Worlds over the last 4 years may indicate the Innovation Quality obtained. Now the new 2019 Blue Carbon boards have achieved a level of performance and sustainability unpreceded in our industry. It's the first ever Gold level ECO SUP board and our World Champions swear by them with their class act performance. The only black carbon remaining is a UD 80 strip in the rail area with the highest overall total failure potential, continuing our Zero breakage voyage by utilizing other better suited materials where basic impact resistance is vital.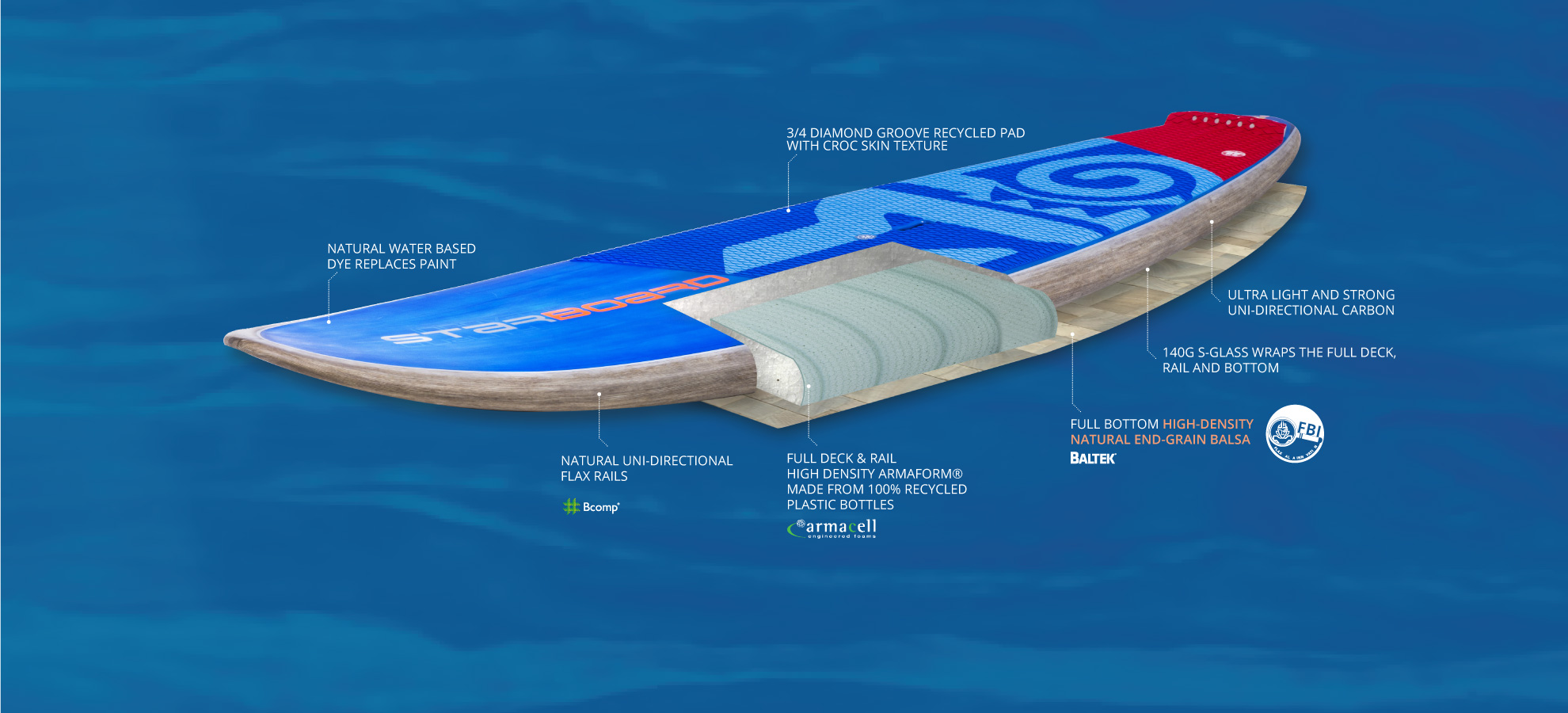 Starboard – a SUP and windsurf brand with 25 years of innovative board building and design – reaches Sustainable Surf's Gold Level status for their Blue Carbon technology board range.
It's no small task – requiring multiple audits of source materials, building facilities and processes, and for a brand as large as 
Starboard
, commitment to helping the environment on a company-wide level.
"One of the most satisfying parts of my work is the challenge to redesign our products to lower the environmental impact and achieve higher performance.  Sustainable Surf is setting the goal posts for the industry to not only fast track, but to showcase how quickly and easily it can be to change the way we build better boards for the planet."
Ollie O'Reilly – SUP Product Manager
'Starboard becomes the first major SUP brand to produce Gold Level EcoBoards – verified by Sustainable Surf'
"The team at Sustainable Surf continue to be impressed and inspired by Starboard's holistic commitment to sustainability and ocean-health. Our mission to protect and preserve ocean health starts with people and brands making better choices everyday – just like the ECOBOARD SUPs produced by Starboard, especially their new range of Gold Level models. We look forward to seeing the next round of eco-innovations from the team at Starboard."
Brett Giddings – Sustainable Surf.
Eco Innovations involved in reaching gold level include:
Natural end grain balsa replaces PVC foam on the full deck and bottom. "End Grain" Balsa is a natural sandwich structure that is lightweight with incredible sheer strength when compared to conventional petroleum PVC foam. The carbon footprint is actually climate positive, meaning it offsets more than it consumes to use it.
ECOBOARD Project Verified 33% Plant-based bio Resin is used to laminate the entire board.
Main Inserts switching to be made from up-cycled fishing nets sourced from India. Akulon ECO is produced by DSM, a leader in sustainability.
IQ centre carry handle is made from recycled ABS.
All traction pads will be made from post-industrial waste. Recycled EVA has a high UV resistance in some colours than virgin EVA, so the pads stay the same colour for longer. Using recycled EVA reduces the amount of petroleum used by 50%.
Natural Balsa wood is now at the core of all of Starboard's composite fins, avoiding plastic while improving flex and reducing weight. Balsa core fins made with bio-resin are up to 31% lighter on certain fin sizes.
For every board made, Starboard plants one mangrove tree, absorbing 1 ton of CO2 over a 20 year lifespan.
All packaging for accessories is now made of cardboard, with the exception of the dust bag made out of recycled plastic