RRD AirRace 14'x26" V4 €1249
We have a look at the most user friendly race iSUP we've tested… the RRD AirRace. It's the 4th edition RRD AirRace they've made, and year after year they have tweaked and tuned the shape and design. The complete AirRace collection comes in the 'Prefo construction' which means they're made from their very best materials, as well as top RRD R&D going into every board. The AirRace is 14'x26" so it's the narrowest and longest board in their collection. It's built for full on racing or very fast touring/cruising.
True to all of the RRD equipment we have tested, this is one good looking iSUP that is fast and super easy to paddle.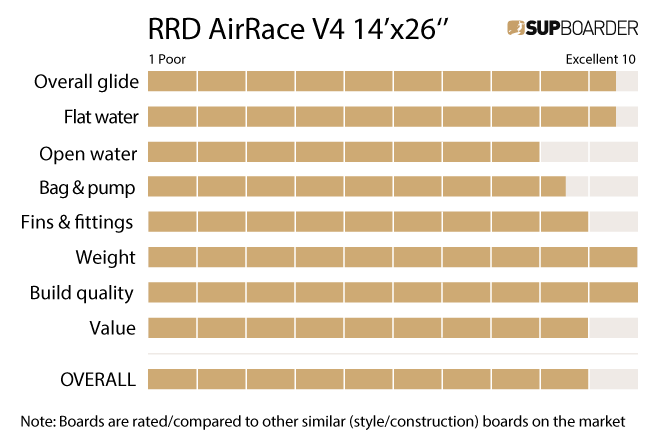 Board details:
Length        14′
Width         26″
Thickness   6″
Volume      300l
Fin set up  Single US box
Weight       12 kg
Rider size   60-110kg
Other sizes in board range;
14′ x 29″ = 315L
14′ x 26″ = 300L
12′6″ x 29″ = 288L
12'6"x 26″ = 270L
10'6″x 25″  = 230L Kids
Our photo gallery
Can you imagine being able to go as fast on an inflatable board as you can on a full carbon board? This is what the AIRACE shapes do. Stable, practical and furiously fast! The special narrow nose and straight outline design, a 6" profile thickness and a super flat scoop rocker line makes the perfect recipe for a great competitive board to be used for flat water races and pure pleasure fast rides. Now available into 6 different sizes! Built with a new SDB "Sandwich Dyneema Belt" on bottom and TPB "Thermo Plastic Belt" on the deck that wraps the whole contour of the board from the deck to the bottom as a stringer, the board becomes about 50% stiffer than any conventional inflatable board. Thanks to the Edge PVC Soft Rail, positioned under the board tail, water flows away fast and clean without turbulences.
Sandwich Dyneema belt
Superlight PVC dropstitch
70% Double skin construction
Thermo Plastic Belt
NEW Soft PVC sharp rail edge on the tail drastically improves grip and glide!