Aqua Marina Super Trip 12'2′ x 34" / €579
This is the biggest board we've tested from Aqua Marina. At 12'2" x 34" the Aqua Marina Super Trip is a multi person/family board, ideal for taking up-to 2 adults and 1 child on the water for a mini SUP adventure or just lots of fun at the beach with friends. The super wide tail of the Super Trip makes the board super stable and easy to use. And with its €579 Euro price point the board is well worth considering if you're looking for a family /multi person SUP to have some great fun on…

Board details:
Length        12′2"
Width         34″
Thickness   6″
Volume      415l
Fin set up  2+1 / PVC clip in side fins and plastic slot box centre fin
Weight       12.5 kg
Paddlers   Up-to 2 adults and 1 child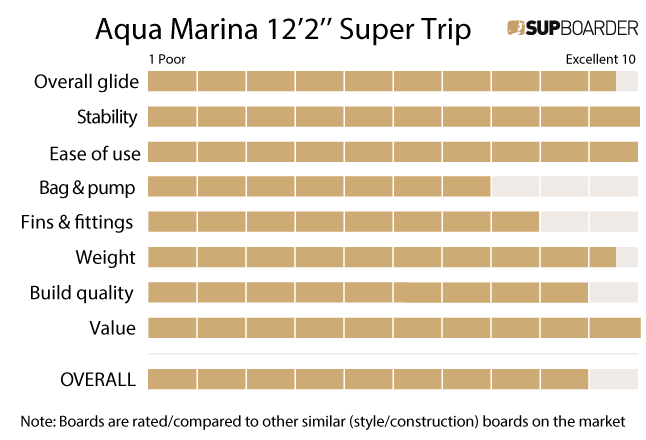 Read on for brand video, details and website www.aquamarina.com
Super Size, Super Fun
There are not many active outdoor activities that the whole family can join in.Super Trip 12'2" extends the family fun to the next level with its extraordinary length and width. Designed for 2 adults plus 1 kid, this family SUP is perfect rig for lakes, seaside, and rivers. A lovely mix of quick, agile and stable and ideal for family use or for clubs.