2018 JP Australia AllroundAir 10'6" WindSurf-SUP, Superior Edition / £1099
The JP Australia AllroundAir is an inflatable beginner board that really does it all. At 10'6"x 32" it's the perfect size for most paddlers getting into SUP for the first time. This board is JP's superior edition, so it has the strongest construction in the range, and it also comes with good quality fittings and a very comfortable backpack. All this makes the JP Australia AllroundAir a great all-round board for beginners. The icing on the cake is that you can windsurf it too… Epic!
Board details:
Length        10′6"
Width         32″
Thickness   5″
Volume      256l
Fin set up  2x US centre boxes (9'&10′ fins)
Weight       9 kg
Rider size   60-110kg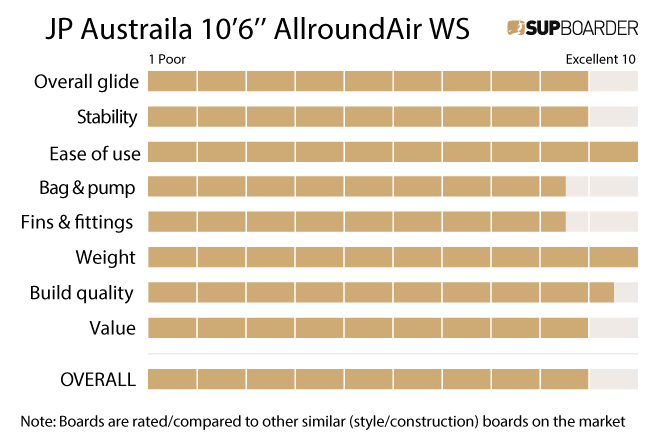 Other sizes in board range;
Superior Edition
10'6" x 32″ = 256L SE
10'6" x 32″ = 256L SE,WS
11'x 34″ = 285L SE
Light Edition
10'6" x 32″ = 256L LE
10'6" x 32″ = 256L LE
11'x 34″ = 285L LE,WS
Light Economy
10'6" x 32″ = 256L LEC
Read on for brand details, videos and website – JP Australia
ALL ROUND – FOR ALL
Narrower nose allows for minimal push of the water in the front, resulting in a faster glide with each paddle stroke. The parallel outline ensures great traction and less paddle-hand changes. This also brings another advantage – a wider tail that significantly improves stability of the board. The two sizes will cover the widest range of average paddler's needs; from absolute beginners to those taking first white water runs, from beginner surfers to yoga enthusiasts. Choose one of the two models with the windsurfing option to double the potential of these great boards.
The AllroundAir 10'6" x 32" is also available in Light Economy. The WS models come with an additional 10" center fin and a windsurfing mast plug.
All the AllroundAirs feature a bungee rope on the nose
Mast plug to attach windsurfing rig, center fin and the center fin box only come with boards with windsurf option – WS.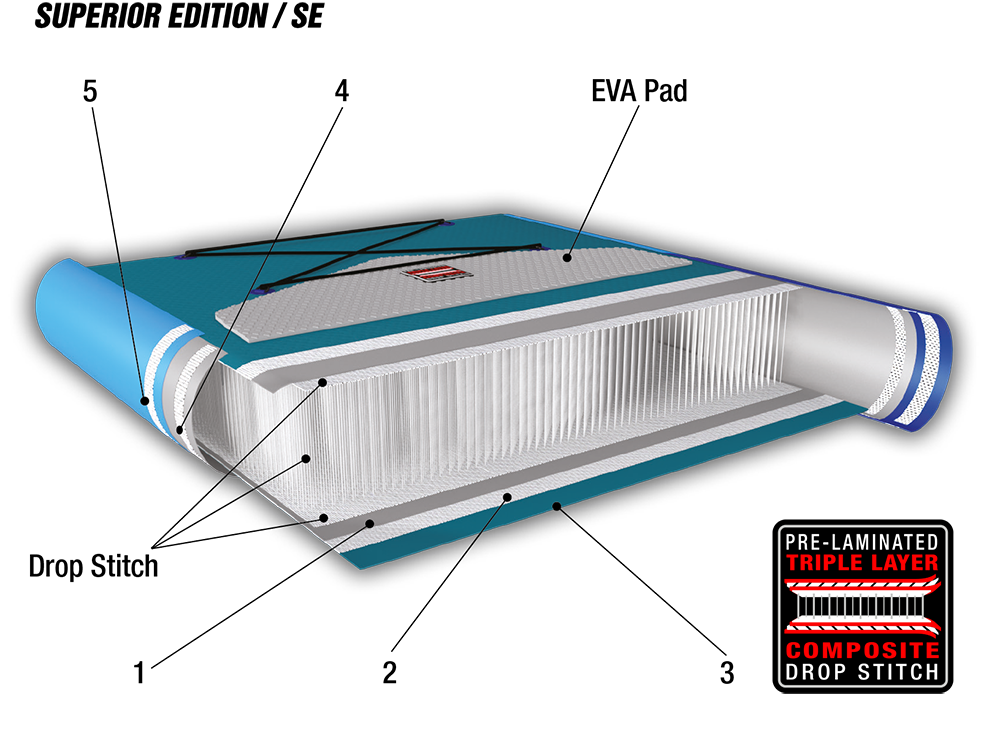 The Superior Edition offers all the technical features of the Superior Stringer edition except for the stringer itself. The boards are therefore extremely durable, light and very stiff.
The 3 pre-laminated composite layers consist of 2 airtight PVC sheets bonded to a Polyester 1000D fabric to create one super strong shell. This shell is then machine laminated directly onto the 500D Polyester Drop Stitch fabric. The pre-lamination and the composite structure give you an unmatched weight/stiffness/durability ratio for inflatable SUPs.
Layer #1: The first PVC layer makes sure your JP inflatable is 100% airtight.
Layer #2: This Polyester 1000D fabric in combination with the layers 1 and 3 creates a super durable composite stretch-resistant structure.
Layer #3: The top PVC layer locks the fabric for ultimate in durability and stiffness. Oh yes, and it gives your SUP its color.
Rail Layer #1: This polyester fabric reinforced PVC rail band connects the top and bottom pre-laminated triple layers.
Rail Layer #2: This additional polyester fabric reinforced PVC rail band makes sure that your SUP is 100% sealed and very durable.