The words SUP Touring can mean many things when it comes to types and shapes of SUP boards. But for us the Starboard Touring Deluxe 12'6" epitomises what a real touring iSUP should do. The Deluxe Touring board can carry lots of weight and is shaped for easy paddling and good speed. And having Starboard's Double Chamber technology in it too, makes the board the safest inflatable board the market has ever seen… good job Starboard!
2018 Starboard Touring Deluxe 12'6" / £1175
Board details:
Length        12′6"
Width         31″
Thickness   6″
Volume      321l
Fin set up  Single US box
Weight       12.2 kg
Rider size   60-110kg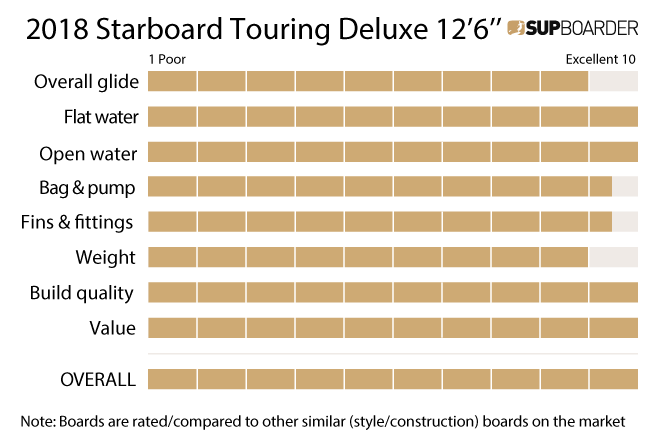 Other sizes in board range;
14′ x 31″ = 354L
11′6′ x 30″ = 299L
Find out more about GeoSUP the paddling app here : www.geosup.com
Read on for brand video, details and website www.starboardsup.com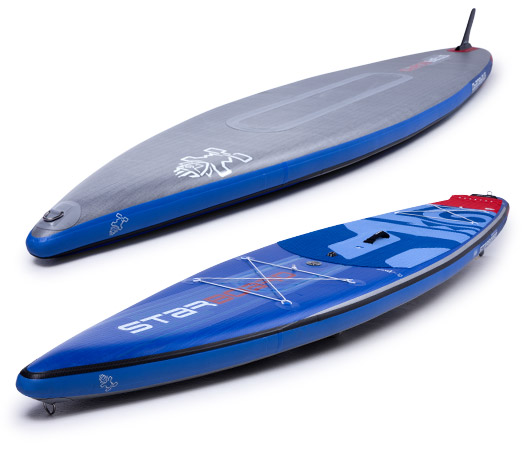 Fast, stable and amazing glide.
Perfect shape for cruising and exploring.
Features packed with bungee tie down, FCS insert, Scotty Mounts and Star Mount.
14'0″ x 31″ Touring A fast stable outline with the longest  glide. Equipped with two bungee tie-downs and two FCS inserts.
12'6″ x 31″ Touring A highly efficient shape for cruising and exploring with good glide to cover distance.
11'6″ x 30″ Touring The shorter length is easier and more manageable to maneuver.
The inflatable Touring board is the explorer's favorite transportation.
Target rider: up to 120 kg explorers.
Key features: Scotty mounts (only on 14'0″),FCS and Star Mount and bungee tie-downs to pack your gear for the next adventure.