Starboard Touring 14′ x 30" Pine Tek / £1925
In this SUPboarder review we look at the mother of all hard (composite) touring boards – The Starboard Touring 14′. It's a long touring board offering a massive amount of glide and space, allowing you to carry plenty of gear to last you a while off the beaten track. And as well as touring this board could be a great 14 foot racer at the weekends too!
Board details:
Length        14"
Width         30″
Thickness   7.2″
Volume      290l
Fin set up  US box and Dol fin 22
Weight       15.9 kg
Rider size   60-120kg
Other sizes in board range;
12'6"  x  31" = 284L
12'6"  x  29" = 274L
11'6"  x  29″ = 245L
10′      x  29″ = 211L
11'6"  x  29″ = 245L Paddle for hope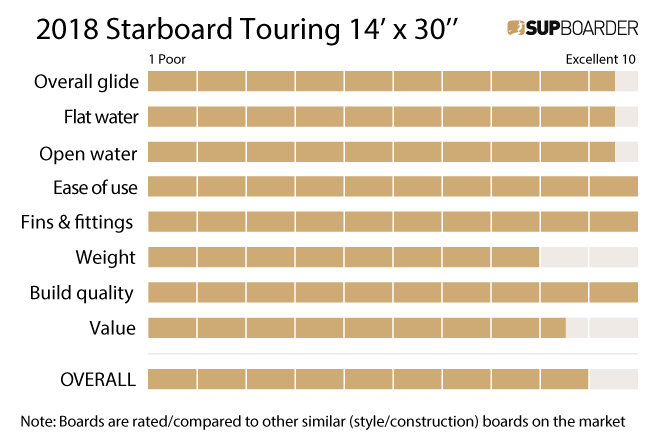 Watch on SUPboarder Pro
If you want more information about this board check out the SUPboarder Pro video of this board where we compare this board to other equivalent boards on the market. Also with SUPboarder Pro you can ask us direct questions about the product and any other products, to guarantee you get the right advice to help you make the correct board choice. Find out more about SUPboarder Pro here : www.supboardermag.com/pro 
Find more SUPboarder Pro content here : SUPboarder Pro content page
Read on for brand video, details and website www.starboardsup.com
Fast and stable designs. With great tracking.
Shaped thicker. To create more pop and acceleration.
Mono Concave bottom. For that light feel through the water.
14'0″ x 30″ TOURING Longest length with the fastest glide and best tracking for riders up to 120 kg.
12'6″ x 31″ TOURING The most stable and widest design for heavier riders up to 110 kg.
12'6″ x 29″ TOURING Balances speed and stability offering the most efficient glide for riders up to 100 kg.
11'6″ x 29″ TOURING Covers distance quickly and offers added maneuverability for lighter weight riders up to 90 kg.
10'0″ x 29″ TOURING Shortest length provides maximum maneuverability and portability for lightweight riders up to 80 kg.
11'6″ x 29″ PADDLE FOR HOPE Inspired by Karen Horen. Karen uses this great gliding and stable board as a part of a SUP rehabilitation program for people recovering from cancer.
Target rider: Suited for all skill levels that want the fastest glide to paddle distances quickly with comfortable stability and the option to carry gear along the journey.
Construction: Available in Pine Tek, Starlite and Starshot. The 11'6″ x 29″ is also available in Paddle for Hope version.
Performance: Exceptional glide from a hull based on the new world champion All Star design. The added rail volume provides unique balance and flotation to carry gear and supplies The board pops up nicely on downwind runs, providing great glide.
Key features: Deep center channel, boxy rails and flat side panes. Star Mount to adapt your SUP with a full range of accessories. Bungee tie-downs and FCS mount.
Fins: Supplied with US fin box. Single fin setup provided with Balsa Core fins for Pine Tek and Starlite and Black plastic injection molded fin for Starshot and Paddle for hope.
Conditions: Hull design and outline excels on flat-water yet volume placement enhances the performance for both upwind and light downwind chop.