What it really takes / Bart de Zwart's 24hr SUP distance record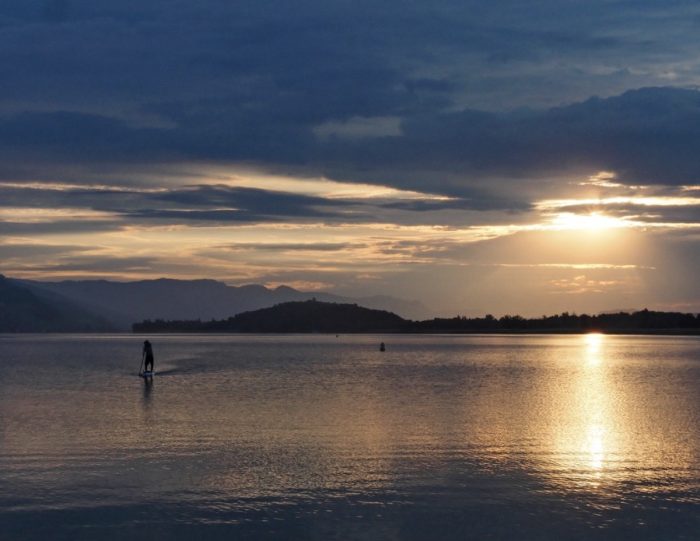 Records are there to be set and there to be broken.  But it's never easy and it takes a certain type of person to do it! And when it involves paddling around the clock as far as possible, having the right mental state is just as important as having the right kit, preparation and weather.
193.8km in 24hrs. Thats the SUP distance record set just last week by Pro Stand Up Paddler, adventurer and International Starboard Team rider Bart de Zwart in Switzerland. It wasn't an easy record to set with increasing winds, sore muscles and a tired body trying to slow Bart down. But with a goal in sight Bart didn't let any of that get in his way, and his determination pushed him through. 
SUPboarder caught up with Bart to hear how he managed to keep paddling and achieve his epic 24hr SUP distance record…
SB/ Tell us a bit more about the SUP kit you used and what influenced your kit choice.
Bart/ I used a Starboard production sprint which was modified by extending the nose and tail to give it a little more glide. It is a little harder to get going but runs really smooth through the water.
SB/ What made you choose Erlach, Switzerland as the location for your challenge?
Bart/ I had to find a place where likelihood of no wind was big. In Maui 24hrs without wind is almost impossible, Holland , the same thing. Thought about California, Florida and Europe. It ended up being Europe because I could combine it with seeing the team and doing the Dutch championships. I normally find locations by looking at google earth and checking the wind data and other local information on line.
SB/ What specific training did you do prior to the challenge? and the 24 hrs immediately before?
Bart/ I train about 5 or 6 times a week of which I try to do 2 longer paddles (2.5 and 5 hr paddle). Other than that I prepare a lot. Food, equipment (GPS, water bags). Being prepared and have the right food helps with your mental state. A challenge like this is 50/50 fitness/mental. The will to accomplish and pull through when everything in your body is hurting is mostly mental. Keeping a good level of energy supply is your food and preparation.
SB/ It was unfortunate that the weather was not on your side. Do you think paddling 200km in 24hrs, which is what you were aiming for, is actually achievable?
Bart/ For me the 200km is definitely possible. Although to plan and make goals on the couch is very easy to exactly do it and keep that average speed high when you in your 18th hr is very different. it is all about the average speed. Every little rest , food break, water bag change you make brings your average speed down. it is a race against yourself and the clock. Very different from a normal race.
SB/ If you decided to do it again what would you do differently?
Bart/ Nothing just find a better place with even less change of wind. I have learned again that the mountains under warm circumstances can be hard to predict what the wind will do.
SB/ Describe in one sentence how it feels to paddle 193.8km in 24 hrs?!!
Bart/ Like I always say, doing something hard (24hr record paddle) is tough and hard but also very rewarding and you come out appreciating the smaller things in life more.
Photos by : Joerg Husi
Sponsors : Starboard, Patagonia, Supskin, Maui Jim, Robijns bv, Camelbak / Suunto, Black Project fins, Kanaha Kai Maui
You can follow more of Bart's adventures and epic paddles on SUPboarder and via his facebook. Well done Bart. We look forward to hearing what you're planning next!