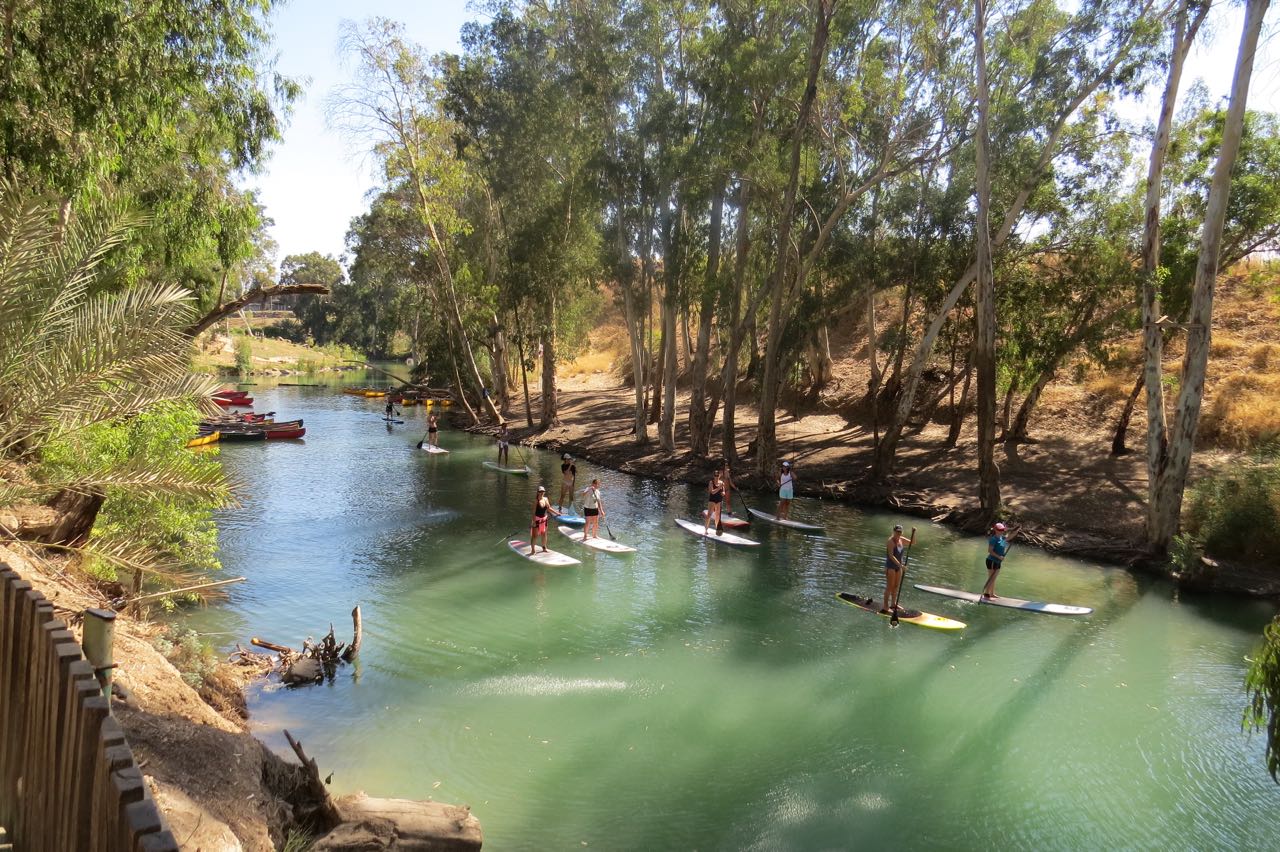 This village is the SUP and surf hub of Israel. There are a big variety of beach and point breaks when the swell is pumping, and when it's not, it's a great location to explore the beautiful Mediterranean coastline by SUP, and paddle from the sea into the nearby Alexander River. While paddling on the river we encountered lots of birds, fish, and even freshwater turtles. The Alexander River is a declared National Park, and requires special permission to paddle on. When we reached about half way down the river (4km), we stopped along the banks for some refreshments and turtle watching before heading back.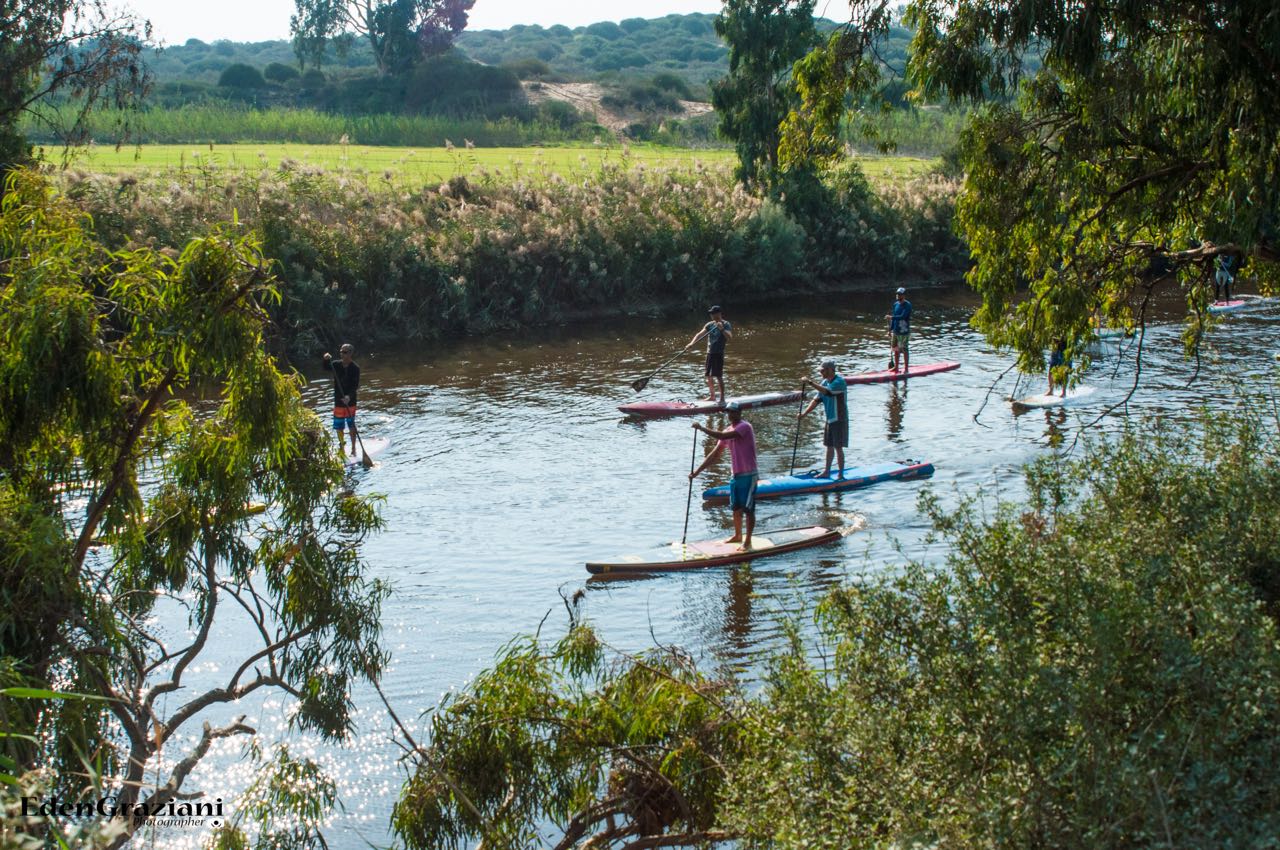 Alexander
We continued south for another 2 hours, on the way experiencing the most dramatic changes in scenery and geography in such a short distance. The view from the car slowly changed from green fields and trees, to dry tan coloured mountains with sporadic vegetation. We followed the winding road down until we reached the desert mountains and the Dead Sea.
The Dead Sea is one of nature's best kept secrets. 400 meters below sea level, the Dead Sea is the lowest place on Earth. Nestled among the rough mountainous terrane of the Judean Desert, it is an oasis of beauty, relaxation, calmness and excitement. On the northern part of the Dead Sea, which has remained wild and untouched is where SUPaway guided the group on a super special SUP experience, paddling on the seemingly thick, dense, deep turquoise, mineral rich water. SUPaway first SUP'd the Dead Sea 2 years ago, and have since made it a club winter tradition. One of the great things about SUPing in the Dead Sea is that you can explore places that can't be reached neither by car nor by foot, and we've discovered secret natural bubbling hot water pools with unique mineral rich black (!) mud which is a natural nourishing mask to cover your whole body with. We all covered ourselves in it and basked in the sun!
Day 4 – Dead Sea
From the Dead Sea, we continued driving about 3 hours further south. The desert mountains become a deep red, and when the road ends you have reached the southern most point of Israel – the forever sunny Eilat. If you want to experience summer during winter time, Eilat is the place to do it, and you can enjoy all watersports including: SUP, kite, windsurf, scuba and snorkel. It is a desert oasis, where tourists from all around the world come to enjoy the Red Sea's turquoise waters, the rich sea life, the spectacular Red Mountains, and buzzing night life too. It has the hustle and bustle of night clubs but also laid back beach bars, where you can chill out on a hammock and enjoy the breathtaking scenery with a beer. After a long day of paddling and travel you can guess what we chose!!
Our first paddle on the Red Sea was full of surprises. As we paddled above the corals, following colourful fish in amazement we were met by two dolphins from the local pod who were taking a morning swim. This dolphin pod live in the Bay of Eilat permanently, and while free to leave and explore whenever they want they mainly stay in their bordered area of what is called the "Dolphin Reef". We paddled for hours soaking up the scenery and the sun, and finished the day with Watsu treatments overlooking the bay. A couple of days in Eilat were the perfect finish to our SUP Safari. Unfortunately its time to head back to Michmoret. Some of us caught the flight back and the rest headed on the 4 hour car ride back to base.
The huge variety of unique paddling experiences in just 4 days makes you feel as though you've travelled to many different far away countries. But it's all possible without even leaving Israel! And there are still many more places yet to be discovered by SUP.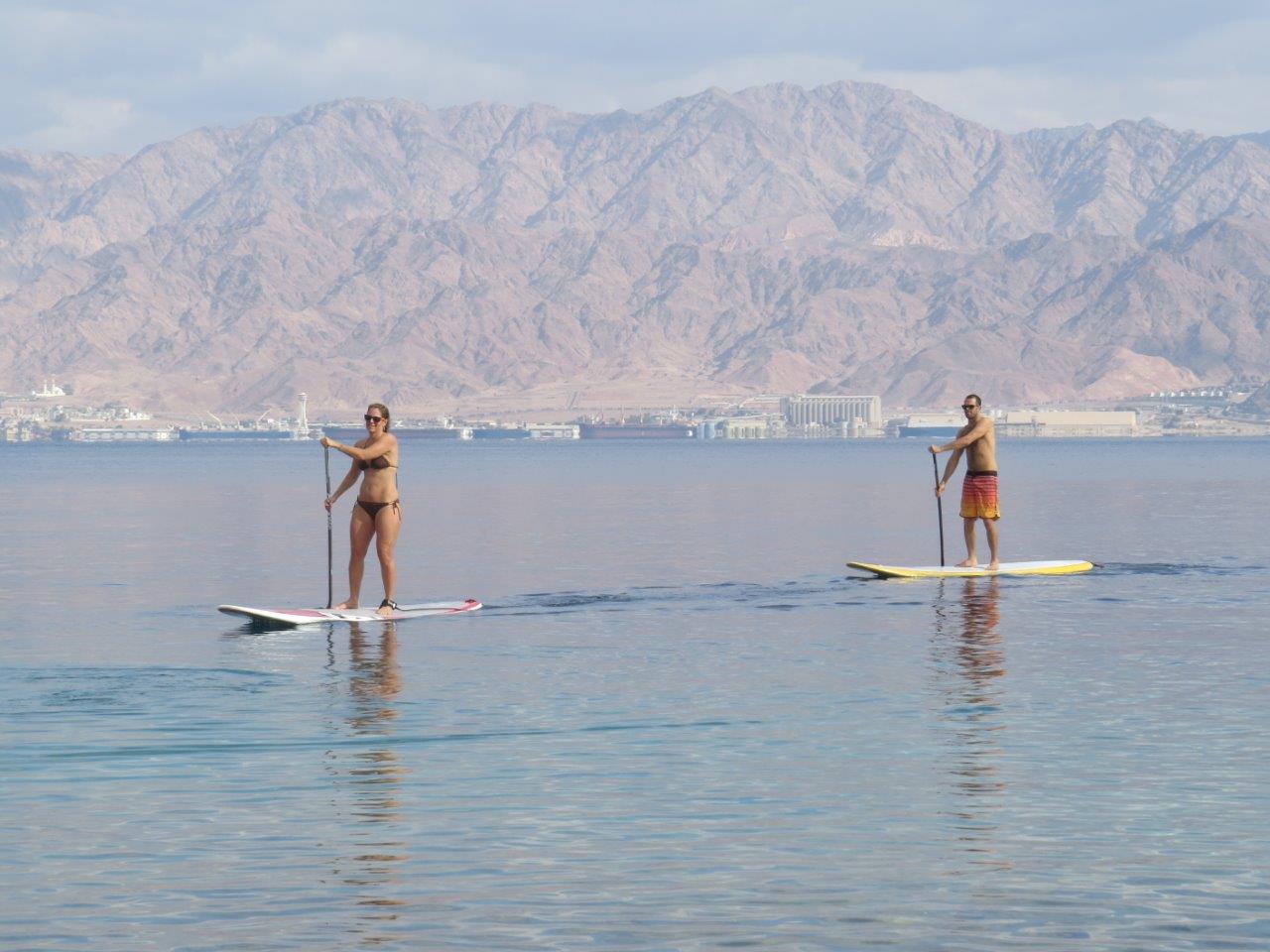 Eilat
More about Israel:
Israel enjoys long, warm, dry summers (April-October) and mild winters (November-March) It's pleasant climate makes it ideal for SUP all year round.
The Mediterranean Coastline – provides some fantastic SUPing opportunities throughout the year. From October to April you can find some decent sized swell, and in summer time the smaller surf provides a great playground for beginner SUP surfers.
Between April-October the Mediterranean water temp is 22-28 C and November – March 20-22 C .
Sea of Galilee – is a fantastic all year round paddle location. Between May and October you can encounter a very unique wind system, when on a daily basis around 2pm, a 20-35 knt westerly wind glides over the mountains straight into the lake, providing perfect conditions for downwinding.
Dead Sea + Red Sea – the recommended season is between October and May.
In Eilat, during spring and autumn, you can encounter strong northerly winds – great for exploring the Eilat bay. On other days you can find glassy water great for exploring the reef and meeting the local dolphin pod.
Getting there – car rental or bus is the easiest way to get around Israel. Or if you go on a SUPaway surf club safari they'll pick you up from Ben Gurion Airport, near Tel Aviv and take you to the club 45 mins away.
So, if you're into SUPing some unique, stunning spots with plenty of history, then Israel sounds like a fascinating place to explore.
For more information about SUPing in Israel, SUP rental, tuition,tours and full holiday packages contact SUPaway at Michmoret Beach :
www.supaway.com
+972-9-8666-991 amit@kiteaway.com