Dutch surfer and carpenter Hilman is building wooden SUP paddles using a hollow wood shaft construction. Surfing and his passion for the ocean meets his passion for wood.
Thanks to Wouter Coomans for sending us this video. They look like beautiful paddles.
Hilman's website: hilmanmeubelen.nl
Produced by: studiobib.nl

Music:
Oceans Fifteen, Heiko Klüh
All this time, Dan Phillipson
The Ocean Song, Ukulele Jim
SIMILAR ARTICLES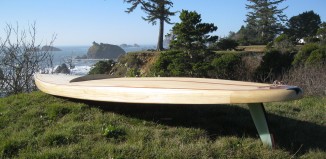 Wood is an important ingredient in almost all SUPs, even when they appear to be made of newer, exotic materials. Often wood is hidden away under...
Are you looking for a winter project? Have you got some spare time and space in your garage? If so, have you considered making...
Sometimes SUP challenges aren't just about getting from A and B. The challenge starts way before you even step foot on the water... whether...
Have you got that urge to make a wooden SUP? If you have a large shed and some spare time then get going with...